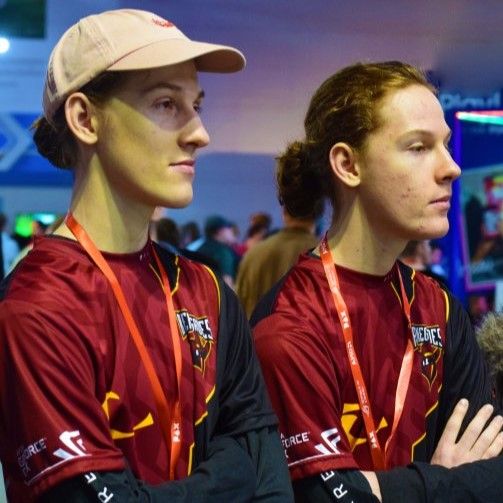 If you have a sibling, you know it's always humorous to get a one up on them, especially in competitions like video games. This played out during a stream last night of professional Fortnite players x2Twins, Jesse "x2Jesse" Eckley and Jordan "x2Jordan" Eckley.
The x2Twins streamed some solo games yesterday on Twitch that ended up creating a clip you can't help but laugh at. X2Jordan built a tower to get the high ground during one of the games. He ended up editing a wall to create a window where he saw another player running along with no walls to guard him. X2Jordan lined up his sniper and fired, landing a headshot. That's when the text popped up: "Eliminated x2Twins Jesse." He took down his brother, who was just a couple feet in front of him.
X2Jesse quickly put his head in his hand while x2Jordan couldn't help but look surprised and amused at taking out his own brother before bursting out in laughter. The chat also erupted in laughs at the misery of one brother and the humor of the other.
For what it's worth, it wasn't the final kill to win the game and x2Jordan didn't end up winning anyway—he finished in seventh. At least x2Jesse can hang his head on those facts. But x2Jordan will likely bring this clip up in conversations with his sibling later, maybe even playing it in case his brother tries to forget it happened.The Australian twins have over 360,000 followers on Twitch.
With May 4 approaching, Epic Games has shared its plans for a Star Wars event in Fortnite. Though the developer has had multiple collaborations with the Star Wars franchise in the past, this one looks like it's aiming to outdo the previous event.The Fortnite x Star Wars crossover event was announced on April 27 and it's likely to go live with Patch v24.30. Soon after the event's announcement, Fortnite data miners took a deep dive into the game's files to uncover everything they could for curious fans.
While the announcement image only features Anakin Skywalker, HYPEX, a Fortnite data miner, claims there will be "multiple skins" in the event. It's currently unknown who from the Star Wars universe will be tagging along with Anakin, but fans are likely to learn more about the event close to its release on May 2. Claims of additional skins were also shared by iFireMonkey, but fans will need to wait for the official patch release to check out all the cosmetics.
Given Fortnite's performance in its latest collaborations, these cosmetics may make their debut with thematic quests. During the event, fans can also expect previous Star Wars skins to become available in the shop.
This article will be updated as more details and cosmetics regarding the Fortnite x Star Wars event get leaked. At the time of writing, it's unclear when the event will conclude after its start on May 2, but players can expect at least a weak of Star Wars in Fortnite based on previous events.
With May the fourth approaching, Epic Games announced that it would capitalize on the famous wordplay with an all-out Star Wars event in Fortnite with Patch 24.30.The reveal came in the form of a tweet that featured Anakin Skywalker with his iconic lightsaber. Shortly after Fortnite's initial tweet, leaks followed the announcement as the datamining community started having a field day inside the game's files.
According to data miners, like HYPEX, the Fortnite x Star Wars crossover event will include "Mythic Weapons, Multiple Skins, and Force Mythics." Since the second quarter of 2022, Fortnite upped its collaboration game by introducing iconic abilities and skills, and fans have gotten to experiment with Smashes from My Hero Academia and Kamehamehas from Dragon Ball Z in the process, meaning a robust Force experience could be on the horizon.
This partnership comes at a clutch time for both Fortnite and Star Wars as the latter is also on the brink of a new release, Star Wars Jedi: Survivor.While the announcement confirms an Anakin Skywalker skin, and potentially a blue lightsaber harvesting tool, there are also Venator-class Star Destroyers, used during the Clone Wars, flying above Anakin. At the time of writing, Fortnite fans can only hope they become interactable vehicles on the map since flying around in vessels straight out of Star Wars in Fortnite could be the coolest thing since Spider-Man's Web-Shooters.
Did you know that there are more Marvel skins in Fortnite than stars in the universe? Of course not, because it's an obvious lie—but it certainly feels like it's true.We've got to the point where we have so many Marvel skins in the game that if the company wants to release its own battle royale, it would be no match for Epic Games' "Marvelnite."